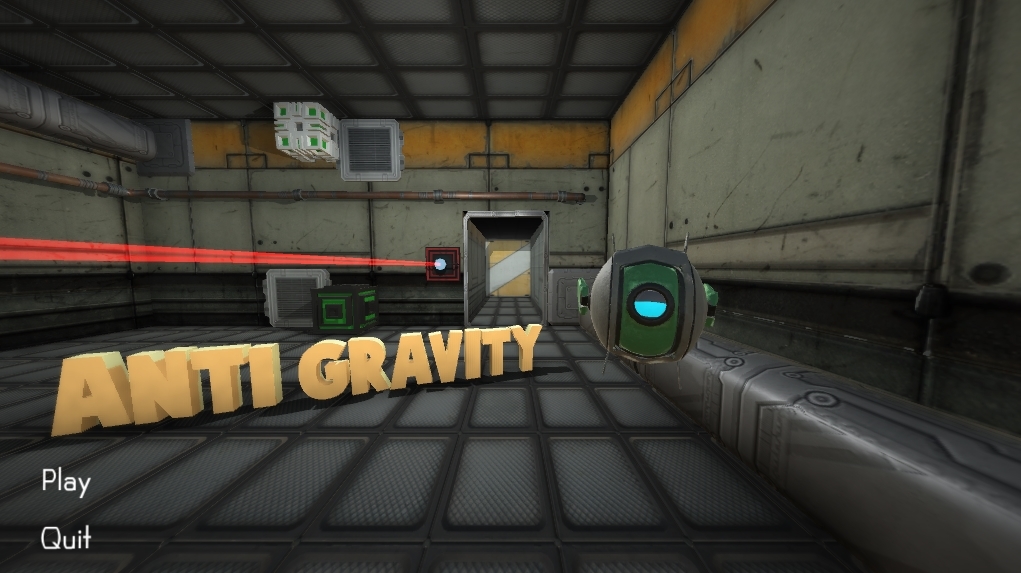 Anti-Gravity
What I Worked On:

Lasers
I created all the code for the lasers and their various components. This includes the receivers and force fields.
Interactable Objects
Interactable Buttons
Doors
Anti-Gravity:

Anti-Gravity was created according to a brief centred around trust. This game was worked on by a team of 4 (2 Designers, 2 Programmers), and was completed in a total of 5 weeks.
This game was showcased at a gallery with an Artist statement accompanying it so its only fitting to put that here as well.


In "Anti-Gravity", a space worker must save his ship with the help of a drone. Many obstacles stand in the way of the duo, and only the pure wit and resourcefulness of the player will let them reach the end.

This project was inspired by two pieces of media, "Laterus" by Tool and Kandinksy's "Black and Violet" painting. Both of these inspirations have a recurring theme of an imminent threat approaching and thus the game was created off of this theme. The entire game attempts to instill this feeling of constant threat, through mechanics, dialogue and the overall atmosphere of the environment. These elements combined try to instill a sense of loneliness in the player. Thus, forcing rash decisions and making the player question the honesty and motivations of the drone.
The theme of the game is based on a brief of trust, more precisely the act of giving. Throughout the game the player will be given choices to interact with the drone, which may or may not help them during the duration of the game. The game calls-back to this theme during the ending where the player is given two options; to send the AI as a distress beacon, or launch him towards the enemy ship.
Throughout the game we guide the player using principles of Gestalt theory, where we differentiate and subtlety hint the end goal to the player each time they walk into a room.
All of this these elements combined we hoped to create an enjoyable and coherent experience for players from start to finish.
Team:
Designers:
Harry O'Connor
Etienne Gonthier
Programmers:
Shane Martin

Luke Wilmot
3D Artists:

James Day
Ben Drury
Jonathan Edwards
Zac Nichols
Heaven Scutt
Max Tyquin
Download
Click download now to get access to the following files: